WARNING: Don't even think about buying a home until you've read about our New BUYER'S ADVANTAGE PROGRAM! -
Buyers Advantage Program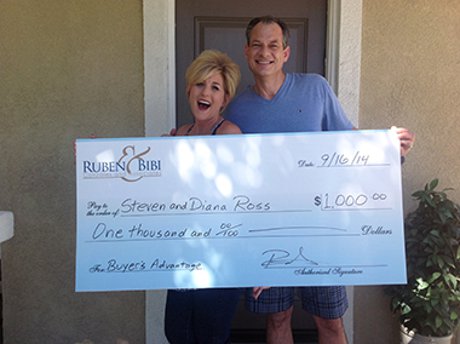 We have one commitment when working with you and that is to exceed your expectations while getting you the best possible price, terms and conditions when you buy a home. To do this, we've created our Buyers Advantage Program to ensure that you get the most house for the least amount of money. By enrolling in the Buyers Advantage Program, you will receive one of the following listed below.
In order to take advantage of our Exclusive program, call us today!
#1. Earn up to $1,000.00 Cash at Closing*:
Here is how it works. If we show you seven ten properties or less and you decide to write an offer with our buyers-advantage-program and your offer gets accepted, we will write you a check at the closing of escrow for $1,000.00. Here are the details depending on your purchase price.
Purchase Price $500,000 & Higher gets you $1,000 Cash At Closing
Purchase Price $400,000 to $499,999 gets you $500.00 Cash At Closing
WHAT YOU NEED TO DO TO GET ENROLLED:
1. Agree that you are using the RUBEN & BIBI GONZALES Team to help you buy your home which simply means that you will:
Give us your search criteria so we can set you up on the Home Hunters Service,
Call us at 949-940-8411 or our Temecula location at 951-321-9852 to schedule a time to meet in person to officially join our Buyers Advantage Program.
Notify us of any home that you want to see and that we will show it to you as quickly as possible.
Allow us to prepare, present and negotiate any offer you want on any home you'd like and we will use our skills and experience to work to get you the best possible price, terms and conditions on the home. This includes new construction homes, FSBO and any home you find either on your own or through us.
Inform all other agents, builders and home sellers that you are working with the RUBEN & BIBI GONZALES Team if you should come in contact with them without us being there.
Get preapproved with our lender or another lender prior to viewing homes.
We look forward to hearing from you.